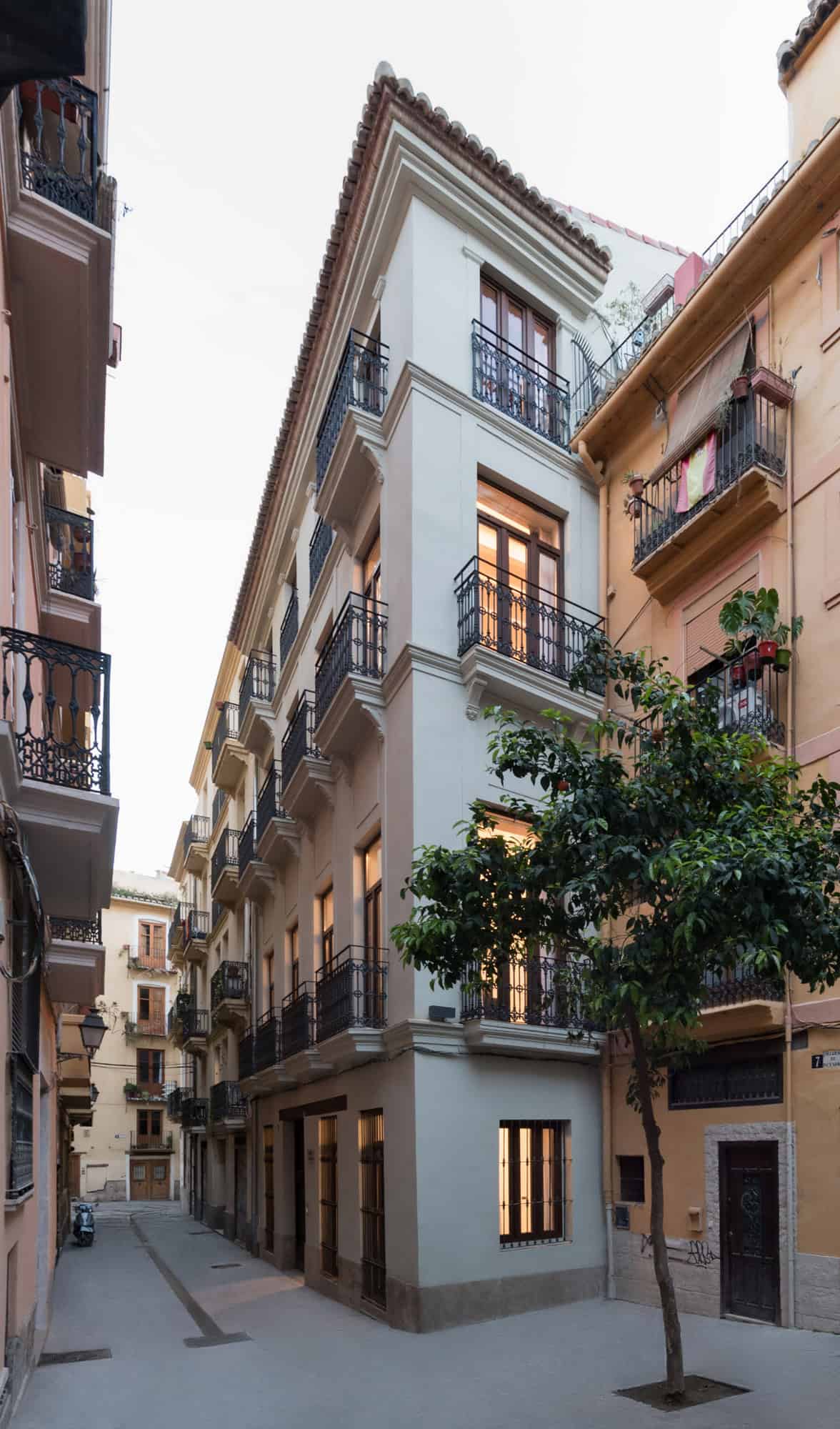 The building is located in the historical centre of Valencia in 'el Barri del Mercat', next to the 'Compañia de Jesús' Church, behind 'la Lonja de la Seda'. The smallholding is located at Burguerins street, which according to Vicente Boix, in his book 'Valencia's history and topography' 1862, has its origin in Mr. Juan Bautista Burguerini for living in this street in the early sixteenth Century.
The Medieval origin building- probably from the fourteenth Century- has suffered three fundamental interventions:
The first one took place in the sixteenth-seventeenth century, and involves the baroque-style arch discovered on the ground floor. This arch was made with limestone blocks from the quarries in Moncada/Bétera for its frame, with slightly chamfered corners and voussoirs.
The second intervention took place in 1862 in which according to Vicente Alcayne's project, the building structure and façade were modified in application of the Urban and Rural Police Regulation of 1884, which had the objective of giving new order to Valencia's streets. The blueprint for the façade for this intervention is kept in the 'Historic files of Valencia's town hall'.
The third modification corresponds to the recent intervention which has permitted recover this historic building which was in state of ruin, maintaining the construction and topologic elements of interest.
Casa Burguerini is made up of seven confortable and welcoming apartments, filled with character and history, as it's located next to 'la Lonja de la Seda', which was considered Heritage of humanity by UNESCO in 1996 and one of the finest pieces of Gothic architecture.
Old Town Flats, a different hotel concept located in the centre of Valencia, quality and attention, wants our clients to find themselves involved in the charm and tradition of the city.
The Old Town Flats team wants to give you our most honest welcome.